Representatives from The Fragility, Conflict and Security cluster participated at the World Bank's Land and Poverty Conference in Washington D.C. 24-29 March 2019.
The conference was an opportunity for representatives from ESA and several EO4SD clusters to come together to advance discussions with the World Bank's Fragility, Conflict and Violence (FCV) team. In addition to discussing land and poverty issues, other general areas where satellite imagery analysis could make a difference for the World Bank's FCV team were discussed.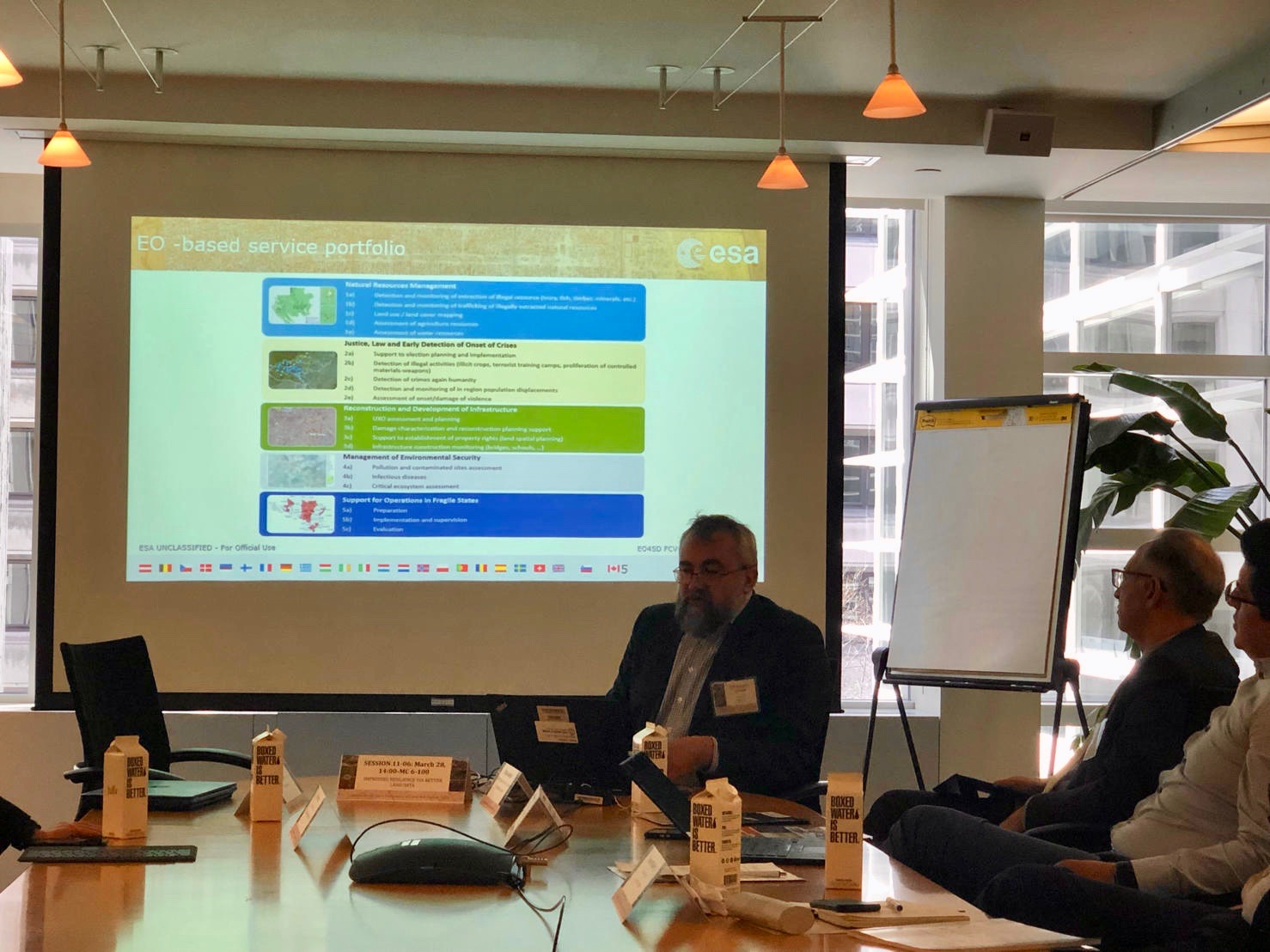 New areas for future trials
The Fragility, Conflict and Security project cluster is broadening the scope of activities for the next two years of the project, phase 2. The following regional and global study areas were selected after extensive discussions with the World Bank over the past months:
South Sudan, to help livestock analyses

Democratic Republic of Congo (DRC), for operational supervision and help to a territorial development project

Global Crisis Risk Platform (GCRP), to create capacity for spatial analysis related to compound risks,

FCV Pilots to develop standard models for operational supervision.
South Sudan was suggested as a possible country that would benefit from the services offered by the consortium. The Famine Action Mechanism (FAM) at the World Bank can receive support with monitoring and analysis of natural resources, agriculture, and livestock, and the Toll of Wars study can utilize EO data and potentially other types of satellite data to get new insights.
The World Bank also has several projects in the Democratic Republic of Congo (DRC), and the consortium can provide operational supervision and support to territorial development projects. The Fragility, Conflict and Security cluster could provide added value to projects by improving forestry management and controlling charcoal-making, supporting initiatives exploring how to obtain formal recognition of traditional user-rights, helping protect communities dependent on the forest and its habitat, rehabilitating National Parks Networks, reducing greenhouse gas emissions from deforestation and forest degradation, re-establishing access between territories and other districts, and reopening and maintaining high priority roads. The usefulness of EO or other satellite technologies to fight the Ebola virus disease outbreak and prevent its spread in neighboring countries could also be explored.
The Global Crisis Risk Platform (GCRP) is a platform that aims to strengthen the World Bank's response to the most serious crises, especially where a combination of shocks can have a devastating impact or spread across borders, as in the ongoing food crises in parts of Africa and in Yemen. Two EO4SD initiatives (the Fragility, Conflict and Security cluster and the Disaster Risk Reduction cluster) have been targeted as partners to map hazard risks, key infrastructure and assets, populations, urban centers, land use, weather anomalies, and climate-related processes. 
The current crisis in Venezuela has triggered a response at the World Bank Fragility, Conflict and Violence operations group, which aims to improve the economic and social situation in the country. Three potential projects in Venezuela are currently being developed. The Fragility, Conflict and Security cluster can support the preparation of these project by assessing change in agricultural productivity, detecting and monitoring illegal mining, and detecting and monitoring trafficking.